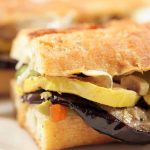 Yield: 4
Prep Time: 10 minutes
Cook Time: 35 minutes
Print
Nutrition facts

(per portion)
Nutrition facts

(per portion)
Calories: 1091 kcal
Carbohydrate Content: 130.13 g
Cholesterol Content: 52 mg
Fat Content: 32.99 g
Fiber Content: 25.5 g
Protein Content: 72.8 g
Saturated Fat Content: 10.591 g
Serving Size: 1
Sodium Content: 4876 mg
Sugar Content: 30.93 g
Trans Fat Content: 0.006 g
Grilled Eggplant Parmigiana Panini
Grilled Eggplant Parmigiana Panini is a super delicious and healthier version of the sandwich, or we can say the hero of all the sandwiches. This sandwich is very easy and quick to make. The Italian bread is layered with grilled eggplant, fresh basil, mozzarella, and Parmigiano-Reggiano cheeses and some marinara is spread on it then grilled in a panini maker. Enjoy this panini with a classic version of grilled eggplant parmigiana.
Ingredients of Grilled Eggplant Parmigiana Panini Recipe
How to Make Grilled Eggplant Parmigiana Panini
Step 1: Preheat the Panini grill to MEDIUM-HIGH heat.
Step 2: Lay out eggplant slices on a clean surface like cutting board and brush olive oil on top of each slice.
Step 3: After brushing with oil season it with salt and black pepper powder.
Step 4: Now, place this seasoned side-down on the Panini grill and then brush the olive oil on the other side of each eggplant slices and season it with salt and black pepper powder and close the grill lid.
Step 5: Grill these eggplant slices for about 4-5 minutes or until cooked through and tender.
Step 6: Set eggplant aside and cover it with foil to keep those slices warm.
Step 7: Clean this grill and reheat it to MEDIUM-HIGH heat.
Step 8: Now for each sandwich, pile a few tablespoons of the mozzarella and Parmigiano-Reggiano onto a slice of bread.
Step 9: Add a few spoonfuls of marinara on top of the cheese then layer on two slices of eggplant, ¼ of the basil and again sprinkle the cheese then put another slice of eggplant and a few more spoonfuls of marinara and some more sprinkling of cheese.
Step 10: Close this sandwich with a second slice of bread and brush olive oil onto it.
Step 11: Now, grill this sandwich for about 4-5 minutes or until cheese is melted, and bread is toasted.
Step 12: Prepare more sandwich similarly.
Step 13: When the sandwich is ready to cut it in half and serve immediately.
Add to Favourites