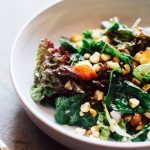 Yield: 4
Prep Time: 15 minutes
Cook Time: 45 minutes
Print
Nutrition facts

(per portion)
Nutrition facts

(per portion)
Calories: 447 kcal
Carbohydrate Content: 74.71 g
Cholesterol Content: 29 mg
Fat Content: 10.21 g
Fiber Content: 10.8 g
Protein Content: 22.09 g
Saturated Fat Content: 5.188 g
Serving Size: 1
Sodium Content: 2737 mg
Sugar Content: 37.31 g
Trans Fat Content: 0.311 g
Greens Topped With Corn
Greens Topped With Corn is a very healthy recipe. It is a perfect mixture of different fresh vegetables like spinach, cabbage, broccoli and corn kernels. This low-calorie recipe is ideal for the people who have a health issue and can enjoy it thoroughly. Learn how to make this delicious greens topped with corn recipe.
Ingredients of Greens Topped With Corn Recipe
How to Make Greens Topped With Corn
Step 1: Boil 3-4 cups water in a large pan with one teaspoon salt.
Step 2: Then Add broccoli and other greens after 1 minute. When the boil comes, again remove it from the fire. Strain Refresh in cold water. Strain it.
Step 3: Squeeze greens gently. Add to a nonstick pan or Kadai. Add onions, crushed peppercorns and '/two teaspoon salt also and cook on LOW flame for 5-7 minutes till the greens turn dry, and the onions become soft. Remove it from the fire.
Step 4: Now, Transfer this to a small baking dish. Spread cooked corn on the greens and sprinkle some red chilli flakes.
Step 5: Now, to prepare the sauce, mix all ingredients of the sauce in a bowl.
Step 6: Keep on fire in the same kadai or pan and cook stirring continuously till it starts to coat the spoon. Reduce heat and cook further for 1-2 minutes. Remove from the fire.
Step 7: Pour the prepared sauce over the corn layer to cover well. Arrange slices of tomatoes on it and Bake at 200' c for 25-30 minutes or until golden brown.
Step 8: Garnish with mint leaves and serve hot.
Add to Favourites