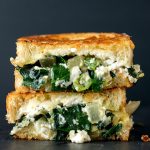 Yield: 1
Prep Time: 15 minutes
Cook Time: 10 minutes
Print
Nutrition facts

(per portion)
Nutrition facts

(per portion)
Calories: 970 kcal
Carbohydrate Content: 47.76 g
Cholesterol Content: 66 mg
Fat Content: 85.49 g
Fiber Content: 17 g
Protein Content: 13.61 g
Saturated Fat Content: 25.723 g
Serving Size: 1
Sodium Content: 747 mg
Sugar Content: 5.95 g
Trans Fat Content: 5.134 g
Green Grilled Cheese Sandwich
Green Grilled Cheese is a sandwich with full of yummy cheese. So, this sandwich is cheezelicious which melts in your mouth and can be made in just a few minutes. This quick and easy sandwich is perfect for your breakfast, snacks or kids Tiffin box. To make this recipe, you need very few ingredients like fresh spinach, avocado, cheddar, and fontina cheese, pesto, leeks, butter and garlic that will give flavor to this sandwich. Get the recipe for green grilled cheese here and try out this delicious sandwich today.
Ingredients of Green Grilled Cheese Sandwich Recipe
How to Make Green Grilled Cheese Sandwich
Step 1: Heat a non-stick skillet over MEDIUM-LOW heat. Add a little bit of oil and cook the leeks and garlic and sauté it for about 5 minutes or until soft.
Step 2: Then add spinach and stir it and cook it for about 2 minutes or until just wilted. Remove from the heat and set aside.
How To Assemble?
Step 1: Take slices of bread and butter the outside of it and lay the slices on a cutting board while butter sides are facing down.
Step 2: Now, spread the pesto evenly on the unbuttered sides. Then on one slice, layer half of the shredded cheese, then the avocado slices and spinach mixture. Top this with the remaining shredded cheese and another slice of bread, butter side facing out.
Step 3: Wipe out the skillet if needed, and heat over MEDIUM flame. Carefully move the sandwich to the pan and fry until golden brown and crispy, filliping once.
Step 4: Enjoy this mouth-melting grilled green sandwich with the cheesy dip.
Add to Favourites