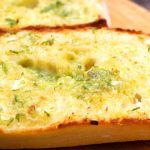 Yield: 3
Prep Time: 5 minutes
Cook Time: 15 minutes
Print
Nutrition facts

(per portion)
Nutrition facts

(per portion)
Calories: 665 kcal
Carbohydrate Content: 56.27 g
Cholesterol Content: 144 mg
Fat Content: 40.27 g
Fiber Content: 2.9 g
Protein Content: 20.13 g
Saturated Fat Content: 33.567 g
Serving Size: 1
Sodium Content: 1400 mg
Sugar Content: 4.63 g
Trans Fat Content: 2.086 g
Garlic Bread with Basil & Parsley
Garlic bread is the perfect recipe to make with fresh basil and parsley. This Italian recipe is a little twist to regular garlic bread. Fresh basil leaves and fresh parsley are mixed with butter to spread on French bread, and top with parmesan cheese then grill it until the cheese is melted and the bread lightly golden. This garlic bread can be served as a side dish with pasta dishes, salads or soups. Let's have a look at the recipe.
Ingredients of Garlic Bread with Basil & Parsley Recipe
How to Make Garlic Bread with Basil & Parsley
Step 1: In a medium bowl, combine butter, parsley, basil, and garlic until it is in a paste consistency.
Step 2: Cover the bowl and microwave this paste until butter is melted.
Step 3: When the butter is melted stir in the parmesan cheese.
Step 4: Take the bread cut in half and also cut each bread piece in half lengthwise.
Step 5: Place cut side down on an uncovered grill and grill these bread over MEDIUM heat for 2 minutes or until lightly toasted.
Step 6: Brush the cut side of bread with the butter mixture and grill it again for about 1-2 minutes longer.
Step 7: Serve it with the pasta dish.
Add to Favourites