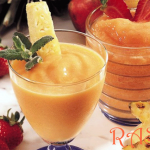 Yield: 2
Prep Time: 5 minutes
Print
Nutrition facts

(per portion)
Nutrition facts

(per portion)
Calories: 259 kcal
Carbohydrate Content: 63.42 g
Cholesterol Content: 0 mg
Fat Content: 0.04 g
Fiber Content: 0.5 g
Protein Content: 0.67 g
Saturated Fat Content: 0.006 g
Serving Size: 1
Sodium Content: 289 mg
Sugar Content: 57.77 g
Trans Fat Content: 0 g
Fruit Frappe
You had a great party last night but left so many fruit juice unused. So, how to use this unused fruit juice. Well, not to worry, you can make fruit frappe from it. Fruit Frappe is made from left-over juices and tastes like a dessert. You can also add your favorite alcohol to make it more delicious.
Ingredients of Fruit Frappe Recipe
How to Make Fruit Frappe
Step 1: Save left-over fruit juice, syrup from canned fruit (if syrup is used, add 1 tablespoon of lemon juice) and fresh canned or frozen fruit in a jar in the refrigerator. When you have 3 to 4 cups, freezes solid in refrigerator trays.
Step 2: To serve, break into chunks with a spoon, and then whip with an electric mixer or blender until the frozen pieces are fine. To delight the children, freeze fruit frappe mixture in Popsicle moulds.
Add to Favourites