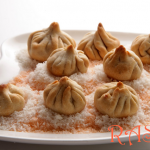 Yield: 4
Prep Time: 25 minutes
Cook Time: 30 minutes
Print
Nutrition facts

(per portion)
Nutrition facts

(per portion)
Calories: 35533 kcal
Carbohydrate Content: 786.25 g
Cholesterol Content: 0 mg
Fat Content: 3607.11 g
Fiber Content: 29.4 g
Protein Content: 104.59 g
Saturated Fat Content: 564.688 g
Serving Size: 4
Sodium Content: 9468 mg
Sugar Content: 21.48 g
Trans Fat Content: 19.171 g
Fried Modak
Modak is the main Prasad which is served to Lord Ganesha on Ganesh Chaturthi both in Maharashtra and Tamil Nadu. Ganesh Chaturthi is a very popular Indian festival which is celebrated by all over the country. As you see Ganesh holds motichur ladoo in his hands, modak is also another favorite dish of him.
Fried modak is a deep fried or shallow fried with coconut stuffing and jaggery. Fried modak is an easy and quick recipe to make. You can also try other variations like mawa modak, steamed modak, chocolate modak and so on. Here I am sharing a step by step recipe to make a yummy modak. Anybody can quickly follow it and can make modak at home. Learn how to make Fried Modak in this easy recipe guide.
Ingredients of Fried Modak Recipe
How to Make Fried Modak
For the Stuffing:
Step 1: In a frying pan, add grated coconut and grated jaggery and put it on the heat.
Step 2: Stir the coconut and jaggery for 5-6 minutes and mix it well.
Step 3: When the jaggery melted and mixed add cardamom powder and mix it well.
Step 4: Again cook it for 5 minutes more and after that remove it from flame and keep it aside.
For the Dough:
Step 1: In a bowl, add wheat flour, salt, and ghee and mix it well.
Step 2: Now, add required water and knead until it becomes a soft dough.
Step 3: Add one teaspoon oil to it and again knead it well.
Step 4: Cover the dough with a cloth and keep it aside for 20 minutes.
To Make Modak:
Step 1: Now, make small round balls from the dough.
Step 2: Use a rolling pan and roll a thin roti from the dough balls.
Step 3: Now, take one tablespoon stuffing mixture and place it in the center of the circle.
Step 4: Bring the edges of the circle together and taper the center.
Step 5: Repeat this procedure for all modak and keep it aside.
Step 6: Once you done with modak, heat the oil for deep frying them.
Step 7: Deep fry the modak on MEDIUM heat until the modak becomes crispy and brown.
Step 8: Avoid to over-frying the modak.
Step 9: You can also store fried modak for 3-4 days.
Add to Favourites