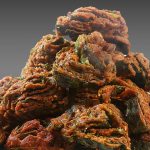 Yield: 2
Prep Time: 15 minutes
Cook Time: 25 minutes
Print
Nutrition facts

(per portion)
Nutrition facts

(per portion)
Calories: 527 kcal
Carbohydrate Content: 62.87 g
Cholesterol Content: 0 mg
Fat Content: 31.79 g
Fiber Content: 12.3 g
Protein Content: 6.21 g
Saturated Fat Content: 4.784 g
Serving Size: 2
Sodium Content: 2349 mg
Sugar Content: 45.64 g
Trans Fat Content: 0.145 g
Farali Patra
Farali Patra is a staple snack in almost every household of Gujarat through vrat days. These steamed dumplings can be served as an anytime snack or as farsaan with a farali meal. This mildly flavored and easy to make snack is very popular. This patra recipe uses colocasia leaves as the primary ingredients. The tempering of cumin seeds that are sprinkled on top adds more zest to this dish. Serve hot and enjoy with farali green chutney of mint and coriander.
Ingredients of Farali Patra Recipe
How to Make Farali Patra
Step 1: Heat sufficient water in a steamer and trim the colocasia leaves.
Step 2: In a bowl, place the flours, lemon juice, red chili powder, sugar, rock salt, and sufficient water. Mix well and make a thick paste.
Step 3: Apply and spread this paste all over the back side of a colocasia leaf then place another leaf over this with its pointed end opposite the first one and again apply the paste over this too.
Step 4: Continue this procedure for one more leaf. And fold the sides slightly and tightly roll. Keep this roll on a perforated plate and place it in the steamer.
Step 5: Cover the steamer with lid and steam for about 15 minutes or until done.
Step 6: Turn off the flame and take the roll out and set aside to cool completely.
Step 7: Once the roll entirely becomes cold, slice it into roundels.
Step 8: Heat oil in a pan and add cumin seeds and sesame seeds.
Step 9: When they start spluttering add sliced patra and toss them.
Step 10: Transfer them onto the serving plate and garnish it with coconut scrape and pomegranate seeds.
Step 11: Savor it hot.
Add to Favourites