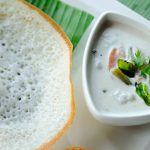 Yield: 5
Prep Time: 4h 15 min
Cook Time: 10 minutes
Print
Nutrition facts

(per portion)
Nutrition facts

(per portion)
Calories: 1042 kcal
Carbohydrate Content: 163 g
Cholesterol Content: 0 mg
Fat Content: 32.4 g
Fiber Content: 22.7 g
Protein Content: 35 g
Saturated Fat Content: 5.537 g
Serving Size: 5
Sodium Content: 2668 mg
Sugar Content: 14.09 g
Trans Fat Content: 0 g
Farali Appam
Appam is very famous as a staple diet food of South India. It is most frequently eaten for breakfast or dinner. But today I am presenting a unique variation of this South Indian staple that is Farali appams. This delicious dish prepared during the fast. These appams are very crispy and mellow. This fasting dish, farali appam make fasting easier and tastier.
Ingredients of Farali Appam Recipe
How to Make Farali Appam
Step 1: First of all, rinse the sama rice under running water and soak it for about 3 hours.
Step 2: After 3 hours grind the sama rice and make a coarse paste with using mixture blender.
Step 3: Place this batter of sama into a bowl and add singhare ka atta, roasted peanut powder, cumin seeds, sesame seeds, chopped cashew nuts, diced potato and yam, carrot, cucumber, and coriander leaves. Mix well.
Step 4: Add red chili powder, ginger-chili paste, soda bi-carb, and rock salt to it and again mix well.
Step 5: Heat a paniyaaram pan over MEDIUM heat and grease each dent with a little oil.
Step 6: Pour a spoonful of appam batter in each dent and drizzle oil and cook for 3-4 minutes or until you notice that the top is getting steamed.
Step 7: Turn them over using a spoon to cook other side and continue to cook for another 3-4 minutes.
Step 8: Once the appam cooks evenly from both sides, remove the pan from heat.
Step 9: Serve hot with tempered curd and coconut chutney.
Add to Favourites