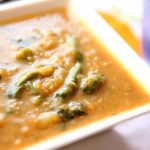 Yield: 4
Prep Time: 15 minutes
Cook Time: 30 minutes
Print
Nutrition facts

(per portion)
Nutrition facts

(per portion)
Calories: 822 kcal
Carbohydrate Content: 119.37 g
Cholesterol Content: 0 mg
Fat Content: 28.94 g
Fiber Content: 10.6 g
Protein Content: 24.4 g
Saturated Fat Content: 4.661 g
Serving Size: 1
Sodium Content: 4939 mg
Sugar Content: 6.51 g
Trans Fat Content: 0.074 g
Dal Dhokli
Dal Dhokli is a traditional dish of Gujarati cuisine. It is prepared with tuvar dal (lentil) and spiced wheat flour. Dal Dhokli is perfect meal recipe which you can make it either for lunch or dinner; it's easier to make and a healthy recipe. You can make this yummy dish when you don't want to have veggies and want to cook something delicious yet healthy food in lesser time. You can enjoy it standalone or can serve it with plain rice too. Below are some easy steps to follow and make delicious Dal Dhokli at home.
Ingredients of Dal Dhokli Recipe
How to Make Dal Dhokli
Step 1: Boil the tuvar dal and the peanuts in a pressure cooker till soft.
Step 2: Now, in a frying pan and heat one tablespoon of ghee and add cumin seeds, garlic, asafoetida, and the boiled dal.
Step 3: Then add kokum, turmeric powder, chili powder, sugar leaves, curry leaves, and salt, and boil the dal again.
Step 4: To make the dhokli, in a bowl, mix the flour, salt, turmeric powder, chili powder, asafoetida, and a little oil and make a stiff dough with the help of water.
Step 5: After kneading the dough well, roll out the dough into 10 cm discs.
Step 6: Cut the discs into diamonds or squares with a knife and drop them into the boiling dal mixture.
Step 7: When all the dhokli pieces added into the dal, boil it for 15 minutes on a LOW flame.
Step 8: Garnish the dal-dhokli with coriander leaves and serve this delicious dal-dhokli hot.
Add to Favourites