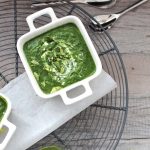 Yield: 4
Prep Time: 15 minutes
Cook Time: 20 minutes
Print
Nutrition facts

(per portion)
Nutrition facts

(per portion)
Calories: 259 kcal
Carbohydrate Content: 21.71 g
Cholesterol Content: 45 mg
Fat Content: 18.03 g
Fiber Content: 5.1 g
Protein Content: 5.62 g
Saturated Fat Content: 10.717 g
Serving Size: 1
Sodium Content: 2466 mg
Sugar Content: 10.22 g
Trans Fat Content: 0 g
Creamy Palak Soup
Palak Soup is very commonly available soup recipe in Indian restaurants. Palak soup is a tasty and healthy recipe to try out. It is served as an appetizer. Especially in winter when you get fresh vegetables, Palak soup keeps you warm. When Palak cooked in a soup form and garnished with cream, it tastes delicious. It's easy to make this soup quickly. Try out this delightful Spinach soup recipe and share your experience with us.
Ingredients of Creamy Palak Soup Recipe
How to Make Creamy Palak Soup
Step 1: Properly wash Palak, coriander leaves, mint leaves, and green onions.
Step 2: Now, in a deep frying pan add 5 cup water and let it boil then add Palak, mint leaves, coriander leaves, and green onions and boil them.
Step 3: Let them boil properly and then with the help of liquidizer and mix them well.
Step 4: Now, in another saucepan, heat the butter and then add Maida to it. Keep stirring while adding Maida.
Step 5: Cook Maida for 2-3 minutes.
Step 6: Now, add Palak mixture into butter-Maida mixture and add other spices to it and cook it for 10 minutes.
Step 7: Then remove the pan from the heat and garnish Palak soup with cream and serve it hot.
Add to Favourites