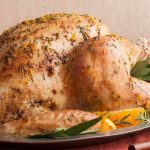 Yield: 8
Prep Time: 25 minutes
Cook Time: 3h 00 min
Print
Nutrition facts

(per portion)
Nutrition facts

(per portion)
Calories: 8910 kcal
Carbohydrate Content: 36.7 g
Cholesterol Content: 4089 mg
Fat Content: 467.34 g
Fiber Content: 9.3 g
Protein Content: 1088.18 g
Saturated Fat Content: 190.102 g
Serving Size: 1
Sodium Content: 9515 mg
Sugar Content: 14.63 g
Trans Fat Content: 10.542 g
Classic Roasted Turkey
Classic Roaster turkey is basic, simple and easy to cook recipe. Cooking a turkey is time-consuming and required advance preparations. Roasting turkey takes longer time, and when it's prepared correctly, it will ready to satisfy your taste buds. Learn how to make a perfect classic roasted turkey for your friends and family to enjoy your holidays and Thanksgiving parties. Try a best Thanksgiving turkey recipe from rasoimenu.com.
Ingredients of Classic Roasted Turkey Recipe
How to Make Classic Roasted Turkey
Step 1: Preheat the oven to 260 °C.
Step 2: First of all, remove the neck and neck cavity from the bird and keep it aside. Remove the tail of the bird and set aside. Remove any excess fat attached to the skin and leftover pinfeathers. Also, remove the chest cavity and discard. Dry the turkey.
Step 3: Now, in a roasting pan with a nonstick roasting rack, set the turkey on it and place it into the oven on a LOW level.
Step 4: Now, spread some salt and pepper inside the chest and neck cavities. Cut half carrots, onion, and celery and put it into the chest cavity. Sprinkle the rest on the bottom of the pan and add some water to the pan.
Step 5: then fold the turkey wing tips back and under the wings, so they lay close to the chest. Now, cut the kitchen twine and connect the legs, wrapping the cords around the knobs of the legs to secure them.
Step 6: Use a toothpick to secure the neck skin from opening. Now, apply butter on the turkey with a pastry brush and sprinkle some salt and pepper on it.
Step 7: Put the turkey breast side up on the rack and roast it 40 minutes at a LOW temperature.
Step 8: After that, add some pan juice on it and again cook the turkey for 30-35 minutes.
Step 9: Continue roasting the turkey after 35 minutes, baste remaining butter on it and again roast it.
Step 10: When the turkey is cooked completely remove it from the rack and transfer it to the carving board. Cover the turkey breast with aluminium foil.
Step 11: Rest the turkey for 30 minutes before carving and serve immediately.
Add to Favourites