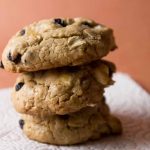 Yield: 4
Prep Time: 40 minutes
Cook Time: 20 minutes
Print
Nutrition facts

(per portion)
Nutrition facts

(per portion)
Calories: 3097 kcal
Carbohydrate Content: 488.47 g
Cholesterol Content: 0 mg
Fat Content: 122.87 g
Fiber Content: 10.5 g
Protein Content: 28.76 g
Saturated Fat Content: 90.971 g
Serving Size: 1
Sodium Content: 3693 mg
Sugar Content: 288 g
Trans Fat Content: 0 g
Chocolate Ginger Cookies
Chocolate ginger cookies are easy and delicious. Cookies deepen with chocolate, ginger powder, molasses, the cocoa powder becomes more tasty and delicious. Chocolate Ginger Molasses Cookies are perfect snacks to go with tea or coffee. It's an ideal holiday recipe to enjoy with friends and family. Learn how to make chocolate ginger molasses cookies at home.
Ingredients of Chocolate Ginger Cookies Recipe
How to Make Chocolate Ginger Cookies
Step 1: Preheat the oven to 170 °C.
Step 2: In a bowl add all-purpose flour, salt, baking soda and mix it well. Stir it well. Then add pumpkin spice, chocolate powder, and ginger spice to it and stir it.
Step 3: In another bowl, mix sugar, molasses, vegetable oil and warm water and stir until the mixture becomes soft and creamy.
Step 4: Now, mix both mixtures into each other than knead it for 3-5 minutes. When it combined well, then add crystallised sugar and chocolate nibs to it.
Step 5: Rinse the hands with cold water and again knead the dough until it becomes consistent. Keep the dough aside for 1 hour.
Step 6: Now, take a small size of the dough ball and roll it in between your palms and turn into ball forms.
Step 7: Roll this dough in sugar and then place this balls on the baking sheet with parchment paper.
Step 8: Slightly press down the cookies and then place the sheet on the middle rack of the oven and bake it for 12-15 minutes.
Step 9: When it becomes soft remove it from the oven and let it cool
Step 10: When the cookies become cool, you can store it in a jar for 5-6 days.
Add to Favourites