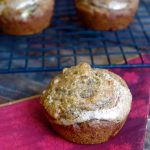 Yield: 4
Prep Time: 5 minutes
Cook Time: 35 minutes
Print
Nutrition facts

(per portion)
Nutrition facts

(per portion)
Calories: 1341 kcal
Carbohydrate Content: 98.56 g
Cholesterol Content: 637 mg
Fat Content: 106.27 g
Fiber Content: 17.4 g
Protein Content: 26.16 g
Saturated Fat Content: 22.388 g
Serving Size: 1
Sodium Content: 1280 mg
Sugar Content: 20.8 g
Trans Fat Content: 0.383 g
Chocolate Almond Muffins
Chocolate almond muffins recipe is very simple, quick and easy. These chocolate muffins are very delicious, and the almonds make them extra special and enhance the taste of the muffins. There are very few ingredients use to make this yummy muffin, such as refined flour, cocoa powder, sugar, milk, almonds, and eggs. You can start your morning with this mouth-melting muffins, or it can also go very well at second breakfast for who loved to eat a lot or say for the "foodies." Try them today!
Ingredients of Chocolate Almond Muffins Recipe
How to Make Chocolate Almond Muffins
Step 1: Preheat the oven to 400°F.
Step 2: Grease 12 muffins tins, or line with baking cups.
Step 3: In a medium bowl, place all-purpose flour, cocoa powder, sugar, baking powder, salt and 1/3 cup of sliced almond and whisk all these ingredients together.
Step 4: In another large bowl, whisk together milk, almond extract, oil, and the egg.
Step 5: Add dry ingredients to it and stir it until combined. Do not over-stir it.
Step 6: Fill the muffin cups 2/3 full with this mixture and sprinkle a pinch of sliced almonds on the top of each muffin.
Step 7: Pat down lightly so that the sliced almonds stick to the batter.
Step 8: Back this muffins for about 20-22 minutes or until wooden pick inserted into the center comes out clean.
Step 9: Serve these muffins at tea-time.
Add to Favourites