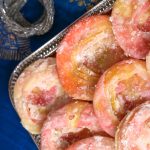 Yield: 3
Prep Time: 30 minutes
Cook Time: 30 minutes
Print
Nutrition facts

(per portion)
Nutrition facts

(per portion)
Calories: 2356 kcal
Carbohydrate Content: 63.9 g
Cholesterol Content: 39 mg
Fat Content: 233.29 g
Fiber Content: 2.1 g
Protein Content: 7.94 g
Saturated Fat Content: 31.367 g
Serving Size: 3
Sodium Content: 118 mg
Sugar Content: 3.12 g
Trans Fat Content: 59.467 g
Chirote
Chirote sweet snack is a traditional sweet of Karnataka. That generally prepared on special occasions and religious festivals like Diwali, etc. it also popular dessert in traditional Maharashtra cuisine and it is called Chiroti. The best occasion to have this delicious and sugary snack is Diwali festival. To prepare this, you don't have to bother and hassle, and the ingredients used to make are very less. Also, it is quick to make too. So let's not delay it and take a look at the recipe.
Ingredients of Chirote Recipe
How to Make Chirote
Step 1: In a bowl, combine the flour, ghee, and yogurt. Mix everything well.
Step 2: Knead stiff dough otherwise you won't get crispy and lightly sweet. Add very little water if required. Set aside for about 20 minutes.
To Make Paste
Step 1: Mix the rice flour and ghee in a bowl.
To Make Chirote
Step 1: Now, take the dough and roll out into the rectangular shape. Spread the prepared paste of rice flour all over to the rolled out dough.
Step 2: Fold the rolled out dough gently, cut the roll and give it a firm press.
Step 3: Heat oil in a pan, once heated deep fry this chirote over a LOW flame until dark brown.
Step 4: Once they were done, top them with powdered sugar while still hot.
Add to Favourites