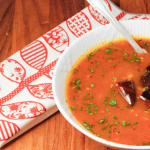 Yield: 5
Prep Time: 20 minutes
Cook Time: 50 minutes
Print
Nutrition facts

(per portion)
Nutrition facts

(per portion)
Calories: 638 kcal
Carbohydrate Content: 107.75 g
Cholesterol Content: 0 mg
Fat Content: 22.37 g
Fiber Content: 14.3 g
Protein Content: 13.23 g
Saturated Fat Content: 3.545 g
Serving Size: 1
Sodium Content: 2369 mg
Sugar Content: 50.77 g
Trans Fat Content: 0.001 g
Chilli Rasam
Chili Rasam or Killu Milgai Rasam is a spicy and delicious rasam recipe. Chili Rasam or Killu Milgai Rasam is a traditional brahmin recipe which is popular in Karnataka region. Rasam is a popular dish of South India. There are different types of rasam – Lentil Rasam, garlic rasam, lemon rasam and more. Chili rasam is very spicy and special recipe for chili lovers.
In this recipe I have used red chilies, you can also make the same recipe with green chilies or with using both red and green chilies. Also, as per your taste, you can use cooked dal. Traditionally, cooked dal is not added to this rasam. It may be added for a thicker consistency. In this recipe, rasam powder and tomatoes are not added, so it's different than other rasam recipes. Learn how to make Chili Rasam recipe.
Ingredients of Chilli Rasam Recipe
How to Make Chilli Rasam
Step 1: Wash dal (if you used it) and drain. Place dal in a pressure cooker with 1 cup water. Cook under pressure for 5 minutes.
Step 2: Add 1 cup water to cooked dal, whisk well and set aside.
Step 3: Soak tamarind in 3 cups water for 10 minutes. Extract juice and discard pulp.
Step 4: Now, Heat oil tempering in a frying pan over LOW heat. Add remaining ingredients for tempering in the given order.
Step 5: When mustard seeds splutter and dal turns golden, mix in tamarind juice, turmeric powder and salt.
Step 6: Bring to boil and lower the heat and simmer for 40-45 minutes, stirring occasionally, till dal is cooked and become soft.
Step 7: Mix in cooked dal and simmer for 5-6 minutes, till well blended.
Step 8: Add more water if rasam is too thick.
Step 9: Garnish rasam with coriander leaves and serve hot with plain rice.
Add to Favourites