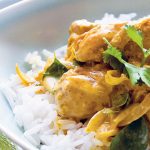 Yield: 4
Prep Time: 60 minutes
Cook Time: 60 minutes
Print
Nutrition facts

(per portion)
Nutrition facts

(per portion)
Calories: 7184 kcal
Carbohydrate Content: 990.68 g
Cholesterol Content: 851 mg
Fat Content: 88.46 g
Fiber Content: 292.9 g
Protein Content: 650.96 g
Saturated Fat Content: 61.354 g
Serving Size: 1
Sodium Content: 34454 mg
Sugar Content: 684.76 g
Trans Fat Content: 0.049 g
Chicken with Coconut Milk
Chicken with coconut milk, delicious and yummy chicken dish with a vibrant taste of coconut milk and little spicy flavor of chilies. This Indonesian chicken dish is a bit time-consuming. In my parents are true chicken lovers, and we experiment with different chicken dishes as a starter, main dish and more. Sometimes I serve chicken dishes with some exotic salad. But this dish you can serve as a standalone dish. Since it is winter season, I made baked potato salad along with chicken with coconut milk.
The procedure for making chicken with coconut milk is easy to make, and it is made in two steps only. The first step is to sauté the prepared ground paste of red chili, cloves, shallots, candlenut, and some other ingredients. Then the milk is added and simmered for a while. Lastly, chicken is added and seasoned with sugar and salt and then cooked until tender. Have this exotic chicken dish with any exotic salad.
Ingredients of Chicken with Coconut Milk Recipe
How to Make Chicken with Coconut Milk
To Make Ground Paste
Step 1: Place all paste ingredients in a mixer grinder and grind it into a finely ground paste.
To Cook Chicken
Step 1: In a wok, add in oil and stir-fry the paste. Let it simmer for about 2-3 minutes. Cover wok and avoid splatters.
Step 2: Then add in chicken, coconut milk and turmeric leaves. Mix well with gravy.
Step 3: Boil it for about 45 minutes or until chicken becomes tender and the gravy thickens.
Step 4: Now, wait till oil surfaces.
Step 5: Add roasted, pounded desiccated coconut and kaffir lime leaves.
Step 6: Season it with salt and sugar as per your taste.
Step 7: Let it simmer for some time and let the gravy thickens.
Step 8: Garnish this with finely sliced turmeric leaves.
Add to Favourites