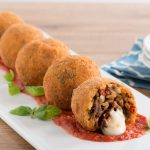 Yield: 4
Prep Time: 25 minutes
Cook Time: 35 minutes
Print
Nutrition facts

(per portion)
Nutrition facts

(per portion)
Calories: 9253 kcal
Carbohydrate Content: 376.57 g
Cholesterol Content: 821 mg
Fat Content: 832.14 g
Fiber Content: 68.2 g
Protein Content: 162.17 g
Saturated Fat Content: 130.486 g
Serving Size: 4
Sodium Content: 12466 mg
Sugar Content: 24.43 g
Trans Fat Content: 179.365 g
Cheesy Rice Balls
Cheesy Rice Balls recipe is Italian cuisine. It's served with Italian dinner as a side dish. It can be thrown very simple, yet a delicious snack, appetizer or finger food that you can make very quickly. These hand-held cheesy balls are super fun to eat. These rice balls have a cheesy surprise with mozzarella cheese at the center that melts in your mouth. Here is the recipe for the delicious and mouth-melting cheesy rice balls. Enjoy it with marinara or any other dipping sauce!
Ingredients of Cheesy Rice Balls Recipe
How to Make Cheesy Rice Balls
Step 1: In a heavy-bottomed pot with tight-fitting lid, add olive oil and butter and heat over MEDIUM-HIGH heat. Once hot, stir in diced onion and sauté it for about 4-5 minutes or until soft and golden.
Step 2: Add finely diced ham and cook for another 2 minutes or until meat is golden.
Step 3: Then add rice to it and stir until coated well with oil.
Step 4: Pour 1 cup white wine and cook until most of it has evaporated. It will take about 2 minutes.
Step 5: Then add 5 cups of hot chicken broth and salt as per taste then cover and cook until the rice has absorbed liquid. It will take about 15 minutes.
Step 6: Now, stir in the peas in, then cover it with lid and finish the cooking until rice is soft and liquid mostly absorbed.
Step 7: Spread this rice mixture onto a large rimmed baking dish to cool. Once this mixture is cooled, stir in finely chopped parsley and parmesan cheese. Mix them well.
Step 8: Using heaping ice-cream scoop, form rice balls. Stuff each with a cube of mozzarella cheese and form a tight ball with the rice mixture to enclose the cheese.
Step 9: When rice balls are ready to dredge each ball in flour, shaking off the excess, then dip one-by-one in beaten egg allowing excess egg to drip back into the bowl.
Step 10: Finally, roll the balls in breadcrumbs and coat the balls evenly.
Step 11: Add oil to the skillet and heat it over MEDIUM heat. Once hot, add prepared rice balls and fry them until all sides are golden brown. Drain them on a plate lined with paper
Step 12: Serve warm with marinara or ranch and enjoy them.
Add to Favourites