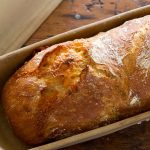 Yield: 4
Prep Time: 15 minutes
Cook Time: 5 minutes
Print
Nutrition facts

(per portion)
Nutrition facts

(per portion)
Calories: 574 kcal
Carbohydrate Content: 29.46 g
Cholesterol Content: 48 mg
Fat Content: 29.05 g
Fiber Content: 4.2 g
Protein Content: 49.06 g
Saturated Fat Content: 7.587 g
Serving Size: 4
Sodium Content: 1967 mg
Sugar Content: 6.05 g
Trans Fat Content: 0.229 g
Cheesy Bread
Cheesy Bread is Italian cuisine. This bread is one of the old favorite appetizers that will never be out of fashion. It is a treat for cheese lovers, and it is easy and quick to make.
This easy cheesy bread is a tasty side dish and a perfect accompaniment to pizza or pasta. An excellent and delicious starter guaranteed to whet everyone's appetite. Here is the recipe for cheesy bread with simple and easy steps. Enjoy!
Ingredients of Cheesy Bread Recipe
How to Make Cheesy Bread
Step 1: In a large bowl, mix both the cheeses and green onion. Stir in the mayonnaise and sour cream.
Step 2: In another small bowl, blend the butter and garlic until smooth. Add this butter mixture to the cheese mixture and mix well.
Step 3: Preheat boiler and take bread loaf and arrange half of them in horizontally, lay crust side down on a foil-lined baking sheet. Spread cheese mixture over the bread.
Step 4: Place this baking sheet under the boiler until nicely browned. It will take about 3-5 minutes.
Step 5: Remove from the boiler and set aside for about 5 minutes or until cool enough to handle. Slice the bread with a bread knife.
Step 6: Enjoy this cheesy bread plain or with pasta.
Add to Favourites