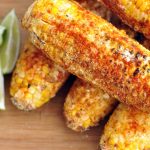 Yield: 2
Prep Time: 15 minutes
Cook Time: 15 minutes
Print
Nutrition facts

(per portion)
Nutrition facts

(per portion)
Calories: 756 kcal
Carbohydrate Content: 87.56 g
Cholesterol Content: 70 mg
Fat Content: 30.89 g
Fiber Content: 7.3 g
Protein Content: 31.17 g
Saturated Fat Content: 17.241 g
Serving Size: 1
Sodium Content: 3170 mg
Sugar Content: 22.37 g
Trans Fat Content: 0 g
Cheese Corn
Cheese Corn is a popular corn dish of a Korean restaurant. In a Korean restaurant, it is served as a side dish. This cheesy and creamy corn dish is so easy to make. With few ingredients, you can make this recipe, and those ingredients are frozen corn, cheese spread, milk, mix herbs, some sugar, and salt. This dish is very yummy and mouth-melting. You can't say "No," even if your tummy is full. Enjoy!
Ingredients of Cheese Corn Recipe
How to Make Cheese Corn
Step 1: Place the corn in a medium-sized pan.
Step 2: Cover with water and add sugar and salt.
Step 3: Bring to boil and cook for 3-4 minutes until the corn is tender.
Step 4: Drain the corn, leaving a few tablespoons of water in the pan and return the corn to the pan.
Step 5: Place the pan over LOW heat and stir in the cheese spread, herbs, and milk.
Step 6: Mix well until you get the consistency of a cheese sauce, about 2-3 minutes.
Add to Favourites