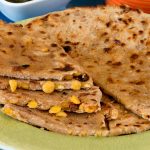 Yield: 2
Prep Time: 40 minutes
Cook Time: 30 minutes
Print
Nutrition facts

(per portion)
Nutrition facts

(per portion)
Calories: 1943 kcal
Carbohydrate Content: 307.12 g
Cholesterol Content: 31 mg
Fat Content: 51.01 g
Fiber Content: 30.6 g
Protein Content: 60.33 g
Saturated Fat Content: 12.942 g
Serving Size: 1
Sodium Content: 3394 mg
Sugar Content: 26.99 g
Trans Fat Content: 0.61 g
Chana Stuffed Paratha
As we know that North India is very popular for its food, especially for their paratha recipes, Chana stuffed paratha is one of the famous paratha recipes from north India. It is very rich, and of course, it is healthy and contains a good amount of nutrition value. The paratha in this recipe is stuffed with Kabuli chana filling which is prepared with mashed and boiled Kabuli chana, tomato sauce, lime juice, and spices. To know how it is being prepared let us see the recipe steps as follow.
Ingredients of Chana Stuffed Paratha Recipe
How to Make Chana Stuffed Paratha
To Make Dough
Step 1: In a large bowl, place wheat flour then add ghee, green chili paste and salt to it and knead the soft dough by adding water to it.
Step 2: Keep it aside for half an hour.
To Make Stuffing
Step 1: Soak the chana in 3 cups of water overnight.
Step 2: Boil the chana in the same water in the pressure cooker for 20 minutes.
Step 3: Switch off the flame and let it cool.
Step 4: Heat oil in a pan, add chana, deep fried onion, cumin powder, rock salt, chaat masala, tomato sauce, lime juice, and salt to it. Mix well.
Step 5: Mash the chana a little with the masher.
To Make Paratha
Step 1: Divide the dough into equal-sized balls.
Step 2: Roll out on a lightly floured surface into chapatis and cook on a hot tawa on one side only.
Step 3: Put the one tablespoon of the filling on the cooked side, spread a little, fold the edges and make a square. The filling should be sealed completely.
Step 4: Roast again on the hot tawa applying one teaspoon of oil on each side till brown.
Step 5: You can serve this paratha with green chutney.
Add to Favourites