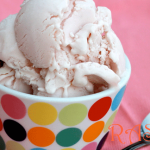 Yield: 3
Prep Time: 30 minutes
Cook Time: 10 minutes
Print
Nutrition facts

(per portion)
Nutrition facts

(per portion)
Calories: 2048 kcal
Carbohydrate Content: 124.31 g
Cholesterol Content: 2181 mg
Fat Content: 143.04 g
Fiber Content: 13.8 g
Protein Content: 62.59 g
Saturated Fat Content: 76.771 g
Serving Size: 1
Sodium Content: 1235 mg
Sugar Content: 45.28 g
Trans Fat Content: 0.186 g
Buttermilk Ice Cream
Buttermilk ice cream is tangy and creamy ice cream recipe. Buttermilk is very good for health, especially in the hot summer days. You can use buttermilk in various ways in with your daily food. Here I am going to share one different recipe with buttermilk. Buttermilk ice cream is very delicious and creamy and can be ready instantly. Try one different way to eat ice cream. Try out and enjoy this easy buttermilk ice cream recipe.
Ingredients of Buttermilk Ice Cream Recipe
How to Make Buttermilk Ice Cream
Step 1: Take a pan and combine 1 cup sugar with cream and boil it at MEDIUM heat for 5 minutes.
Step 2: Now, in a large bowl add egg yolks and ¼ cup sugar to it and mix it.
Step 3: Then, stir constantly while adding cream mixture into the egg yolks, and to slowly add the eggs from souring.
Step 4: Repeat this procedure for 4-5 minute before drizzling the yolk mixture into the cream. Stir in between.
Step 5: Now, cook this mixture over LOW heat for 5 minutes or until the mixture becomes thick enough to coat the back of a spoon.
Step 6: Rinse the mixture and stir in the buttermilk, vanilla essence and salt.
Step 7: Let it cool, and deep freeze it.
Add to Favourites