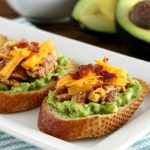 Yield: 2
Prep Time: 10 minutes
Cook Time: 10 minutes
Print
Nutrition facts

(per portion)
Nutrition facts

(per portion)
Calories: 7181 kcal
Carbohydrate Content: 226.71 g
Cholesterol Content: 79 mg
Fat Content: 679.69 g
Fiber Content: 11.9 g
Protein Content: 61.59 g
Saturated Fat Content: 77.468 g
Serving Size: 2
Sodium Content: 4021 mg
Sugar Content: 27.51 g
Trans Fat Content: 177.271 g
BBQ Chicken Grilled Cheese Sandwich
BBQ Chicken Grilled Cheese, this sandwich is so good and very yummy that you won't be able to endure them. This one of those sandwiches that you eat slowly and savor every bite. This Chicken grilled cheese sandwich is delicious with the added gooey goodness of cheddar cheese. To make this sandwich you need very few ingredients, and it is quicker that can be made in a few minutes.
Ingredients of BBQ Chicken Grilled Cheese Sandwich Recipe
How to Make BBQ Chicken Grilled Cheese Sandwich
To Make Haystack
Step 1: Take the onion slices and submerge them in the buttermilk and set aside for about 30 minutes.
Step 2: Combine the flour, salt, and pepper powder in a large bowl.
Step 3: In a large pot, heat the oil over MEDIUM-HIGH heat.
Step 4: After 30 minutes take out the onion from the buttermilk and shake it off, lightly.
Step 5: Toss this onion slices into flour mixture and coat well.
Step 6: Fry the onion straws until golden brown. Drain them on towel paper to soak the excess oil.
To Make BBQ Chicken Grilled Cheese
Step 1: Preheat a large pan on MEDIUM heat and lightly grease it.
Step 2: Now, lay out the two slices of marble bread and top them off with half of the cheese slices.
Step 3: Slice the chicken tender in long strips and spread them out on top of the cheese.
Step 4: Top off the chicken with some haystack.
Step 5: Cover with the remaining cheese and then cover with remaining bread slices.
Step 6: Cook for about 5-7 minutes on each side. If you want the cheese to melt better cover the pan for few minutes.
Step 7: Top off the sandwich with some more haystack.
Add to Favourites