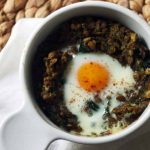 Yield: 4
Prep Time: 10 minutes
Cook Time: 20 minutes
Print
Nutrition facts

(per portion)
Nutrition facts

(per portion)
Calories: 1028 kcal
Carbohydrate Content: 67.13 g
Cholesterol Content: 2475 mg
Fat Content: 66.8 g
Fiber Content: 8 g
Protein Content: 43.44 g
Saturated Fat Content: 14.641 g
Serving Size: 1
Sodium Content: 2797 mg
Sugar Content: 41.65 g
Trans Fat Content: 0.145 g
Baked Spicy Egg
A tasty and simple spicy baked egg recipe. This baked egg dish can be made in so many different ways. You can use tomato sauce to prepare this dish, but in I have cooked the eggs without tomato sauce.
In this healthy breakfast recipe, eggs baked with green chillies, garlic, onion and vinegar which gives a spicy taste to it. Baked eggs are very quicky to prepare and very healthy to have in breakfast. Serve this delicious baked eggs with grilled bread. Learn how to make baked eggs in these easy recipe guide.
Ingredients of Baked Spicy Egg Recipe
How to Make Baked Spicy Egg
Step 1: In a microwave-safe bowl, add oil, garlic, onion, green chillies and capsicum and microwave it at 100% power for 2-3 minutes.
Step 2: Now, add eggs, vinegar, sugar, and cumin powder to it and stir until its mixed.
Step 3: Preheat the oven to 190°C and bake for 10-15 minutes or until it sets.
Step 4: Cut into wedges and serve as snacks or with bread.
This Recipe is Adopted From Electrolux Cook Easy Book
Add to Favourites