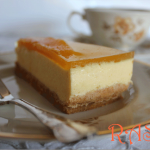 Yield: 4
Prep Time: 15 minutes
Cook Time: 50 minutes
Print
Nutrition facts

(per portion)
Nutrition facts

(per portion)
Calories: 2496 kcal
Carbohydrate Content: 221.24 g
Cholesterol Content: 2190 mg
Fat Content: 158.16 g
Fiber Content: 4.7 g
Protein Content: 55.76 g
Saturated Fat Content: 81.134 g
Serving Size: 1
Sodium Content: 3136 mg
Sugar Content: 140.21 g
Trans Fat Content: 1.639 g
Baked Mango Cheesecake
Mango cheesecake is a mouthwatering summer delight. This delicious dessert is full of cream, cheese, and mango. Mango cheesecake is a must try the recipe in the mango season. Everyone loves this sweet, creamy and moist mango cheesecake. To make this recipe yummy, you can also use your choice of biscuits. Learn how to make tempting Mango cheesecake.
Ingredients of Baked Mango Cheesecake Recipe
How to Make Baked Mango Cheesecake
Step 1: Preheat the oven at 180°C.
Step 2: Now, crush the biscuits in a bowl and then add melted butter to it and mix it well.
Step 3: Now, in a spring bottom tin spread this mixture and put it into the refrigerator to chill.
Step 4: In another bowl beat the eggs and then add sugar and whisk it with a blender.
Step 5: In a bowl add cream cheese and then add mango pulp and mix it with a blender.
Step 6: Now, in this cream cheese mixture add the previously made egg mixture and mix it. Pour this mixture over the spring bottom tin-based biscuit base.
Step 7: Add mango cubes on it and place this tin into the preheated oven and bake it for 40-45 minutes.
Step 8: Once it's ready, remove it from the oven and keep it aside to cool.
Step 9: When it becomes the cool place it into the refrigerator to chill.
Step 10: Now, in a frying pan add ½ cup water and heat it. Then add mango jelly crystals to it and boil it till it dissolved.
Step 11: Remove it from the heat and let it cool.
Step 12: Once it becomes cool to pour it over the chilled cheesecake and again keep it in the refrigerator to chill.
Step 13: Once it chilled adequately serve it.
Add to Favourites