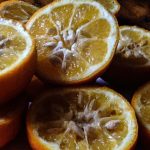 Yield: 6
Prep Time: 10 minutes
Cook Time: 20 minutes
Print
Nutrition facts

(per portion)
Nutrition facts

(per portion)
Calories: 670 kcal
Carbohydrate Content: 157.77 g
Cholesterol Content: 0 mg
Fat Content: 5.87 g
Fiber Content: 12.9 g
Protein Content: 6.4 g
Saturated Fat Content: 3.626 g
Serving Size: 1
Sodium Content: 24 mg
Sugar Content: 131.12 g
Trans Fat Content: 0 g
Baked Caramelized Oranges
Caramelized oranges is a quick, easy and yet stylish dessert recipe. Oranges with a caramel taste delicious, and it will be a perfect dessert for the dinner party. Fresh juicy oranges in a caramel sauce make this dish tasty, and these caramel oranges are sweet and yummy that people will enjoy it a lot. So what are you waiting? Here is the easiest recipe to bake the caramelized oranges.
Ingredients of Baked Caramelized Oranges Recipe
How to Make Baked Caramelized Oranges
Step 1: Peel the oranges and keep them whole. Remove white fibers from the oranges and cut them horizontally, without the pieces falling apart, into 1/2″ thick round slices, about three slices from a medium orange.
Step 2: Arrange the orange slices in a round ovenproof dish. With the help of fork remove seeds from both sides of the piece.
Step 3: Place a cherry or a grape in each orange center.
Step 4: Put sugar and water in a heavy bottomed kadhai and boil it. Heat on LOW flame.
Step 5: Stirring it continuously for a 3-4 minute till the sugar dissolves and the syrup reaches one thread consistency, that is, it feels sticky and forms a single thread when touched between two fingers. Remove the kadhai from the fire.
Step 6: Now, pour the hot caramelized sugar on the arranged oranges and Keep it aside.
Step 7: Before serving bake it for 8-10 minutes at 180°C. Garnish with fresh mint.
Add to Favourites