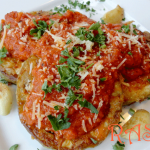 Yield: 2
Prep Time: 10 minutes
Cook Time: 40 minutes
Print
Nutrition facts

(per portion)
Nutrition facts

(per portion)
Calories: 48966 kcal
Carbohydrate Content: 11229.02 g
Cholesterol Content: 49 mg
Fat Content: 401.1 g
Fiber Content: 4989.3 g
Protein Content: 1999.01 g
Saturated Fat Content: 75.275 g
Serving Size: 1
Sodium Content: 11619 mg
Sugar Content: 6809.22 g
Trans Fat Content: 0 g
Baked Eggplant in Tomato Sauce
Brinjal or eggplant or Aubergine Baked in tangy tomato sauce gives a rich taste to the brinjal. Baked eggplant is a perfect side dish to complement any meal. It is a delicious and healthy recipe and can be ready in lesser time. People who don't like to east brinjals, this is a special recipe for you, and you will love this recipe and enjoy your brinjals. Enjoy this baked brinjal in tomato sauce recipe with paratha, butter roti, and rice. Learn how to make Baked Eggplant With Tomato Sauce and Cheese.
Ingredients of Baked Eggplant in Tomato Sauce Recipe
How to Make Baked Eggplant in Tomato Sauce
Step 1: Wash the brinjals and slice the brinjals (eggplants).
Step 2: Now, heat oil in a non-stick frying pan and spread the brinjal slices over the hot oil.
Step 3: Now, sprinkle a little salt, cover it and cook until it becomes soft.
To make Tomato sauce
Step 1: Finely chop tomatoes and onion.
Step 2: Mix tomatoes, onion, and garlic. Cover it and cook until it becomes soft.
Step 3: Now, blend the mixture in a liquidizer.
Step 4: Then, add chili powder, ajwain, salt and cook it for a few minutes.
Step 5: Taste and if sour, add one teaspoon of sugar.
Step 6: Now, in a greased baking dish make a layer of brinjal and tomato sauce.
Step 7: Preheat oven at 250 °C for 5 minutes.
Step 8: Now, cover with crumbled cottage cheese and bake in a hot oven at 250°C for 15 to 20 minutes.
Add to Favourites