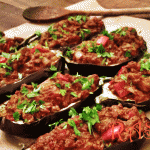 Yield: 8
Prep Time: 10 minutes
Cook Time: 40 minutes
Print
Nutrition facts

(per portion)
Nutrition facts

(per portion)
Calories: 593 kcal
Carbohydrate Content: 106 g
Cholesterol Content: 38 mg
Fat Content: 13.29 g
Fiber Content: 30.2 g
Protein Content: 25.02 g
Saturated Fat Content: 6.845 g
Serving Size: 1
Sodium Content: 2623 mg
Sugar Content: 49.5 g
Trans Fat Content: 0 g
Baked Aubergines
Baked Aubergine is a delicious, easy and healthy recipe to try out for lunch and dinner. In this recipe, Aubergines (Eggplants) are roasted in the microwave and then cooked with curd, milk, tomatoes, onions and more. This recipe serves eight persons and will take 50 minutes in total to make it. Try out something new and delicious baked aubergines recipe and make your guest happy. Here is the easy and healthy aubergine recipe.
Ingredients of Baked Aubergines Recipe
How to Make Baked Aubergines
Step 1: First, Take a deep pan and add 2 cups of water to it. Now, add brinjals to it and boil it, in a covered pan for 10 minutes.
Step 2: Let it cool and then cut into two halves lengthwise.
Step 3: Scoop the brinjal halves, leaving a 1/2″ wall.
Step 4: Finely chop the scooped out brinjal pulp.
Step 5: Now, beat the hung curd in a bowl until it becomes smooth.
Step 6: Now, Mix the cornflour with milk and then add it to the curd. Add salt & red chili powder.
Step 7: Then, mix onions, tomatoes, brinjal pulp, coriander & green chili with the curd.
Step 8: Now, fill the brinjal shells with this mixture and press it lightly.
Step 9: Now, bake the brinjals into the microwave for 30-40 minutes at 180°C.
Step 10: Serve hot.
Add to Favourites