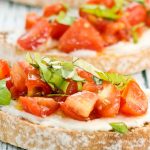 Yield: 4
Prep Time: 15 minutes
Cook Time: 10 minutes
Print
Nutrition facts

(per portion)
Nutrition facts

(per portion)
Calories: 615 kcal
Carbohydrate Content: 38.16 g
Cholesterol Content: 5 mg
Fat Content: 50.86 g
Fiber Content: 11.2 g
Protein Content: 9.02 g
Saturated Fat Content: 7.21 g
Serving Size: 1
Sodium Content: 2870 mg
Sugar Content: 1.61 g
Trans Fat Content: 0.013 g
Avocado, Tomato, Olive and Basil Bruschetta Salad
Avocado, Tomato, Olive and Basil Bruschetta, this easy bruschetta is a rupture of fresh summer flavors. This fabulous recipe can make with handy ingredients like avocado, vine-ripened tomatoes, fresh basil, a good glug of olive or avocado oil and a hint of garlic.
I always bake bruschetta base in advance and store them in an airtight container to save some more time to cook. But you guys can prepare them while making this dish as well. If you want to prepare them in advance, then ensure that you must allow them to cool completely before storing. So everyone prepare all ingredients and start making this delicious dish sure this will satisfy your hunger pangs.
Ingredients of Avocado, Tomato, Olive and Basil Bruschetta Salad Recipe
How to Make Avocado, Tomato, Olive and Basil Bruschetta Salad
For The Bruschetta
Step 1: Preheat oven to 170° C.
Step 2: Place slices of ciabatta bread on the baking tray and brush them with olive oil and bake them for about 15-20 minutes or you can see them light golden and crisp. Remove from the oven and set aside to cool.
For The Topping
Step 1: In a bowl, combine tomatoes along with salt and leave to stand for 5-10 minutes.
Step 2: Drain off the excess liquid from the tomatoes and gently mix with the olives, avocado oil, lemon zest, juice and basil and season with to taste with salt freshly ground black pepper.
Step 3: Mash avocado and lemon juice together until smooth and season to taste with salt and pepper.
To Serve
Step 1: Cut the raw garlic in half and rub lightly over each bruschetta base.
Step 2: Spread over some avocado and spoon on some salsa.
Add to Favourites