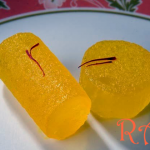 Yield: 4
Prep Time: 30 minutes
Cook Time: 45 minutes
Print
Nutrition facts

(per portion)
Nutrition facts

(per portion)
Calories: 2924 kcal
Carbohydrate Content: 749.64 g
Cholesterol Content: 0 mg
Fat Content: 0.13 g
Fiber Content: 0.6 g
Protein Content: 0.22 g
Saturated Fat Content: 0.014 g
Serving Size: 1
Sodium Content: 15 mg
Sugar Content: 733.58 g
Trans Fat Content: 0 g
Angoori Petha
Petha is very famous sweets of Agra. Angoori petha or Kesar petha is sweet and delicious dessert with the perfect taste of Kesar and kewda essence. Angoori petha is made from white pumpkins with sugar, cardamom seeds and more. Angoori petha garnished with Silver or gold foil looks tempting. Enjoy this another version of Petha. Learn how to make petha at home with this easy recipe.
Ingredients of Angoori Petha Recipe
How to Make Angoori Petha
Step 1: Peel and cut the pumpkin into one-inch cubes.
Step 2: Pierce holes into each cube all over with the help of a sharp needle.
Step 3: Dissolve chuna in a dekchi of boiling water, strain and put over the pumpkin cubes.
Step 4: Set aside for 1 hour, then wash thoroughly over 10 to 12 changes of fresh water.
Step 5: Boil in clean water till half done.
Step 6: Put 2 cups water in sugar and prepare a thin syrup, put in the vegetable cubes, colour and cardamom and cook till the syrup strings a thread.
Step 7: Remove from fire, put in the essence, cool and cover each cube of vegetable with foil.
Add to Favourites