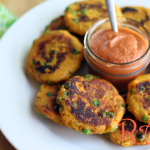 Yield: 4
Prep Time: 15 minutes
Cook Time: 30 minutes
Print
Nutrition facts

(per portion)
Nutrition facts

(per portion)
Calories: 5381 kcal
Carbohydrate Content: 318.48 g
Cholesterol Content: 0 mg
Fat Content: 446.85 g
Fiber Content: 32.6 g
Protein Content: 46.82 g
Saturated Fat Content: 46.434 g
Serving Size: 1
Sodium Content: 6099 mg
Sugar Content: 45.38 g
Trans Fat Content: 117.821 g
Aloo Tikki
Aloo Tikki is a delicious, crunchy Indian snacks which you can quickly get on the Indian streets. This famous street food is crispy outside and soft inside. It is easy to make and delicious. It is made with boiled potatoes, green chillies, peas, and spices. Then Potato patties coated with breadcrumbs and fried till it becomes crispy. This snack is perfect to serve as an appetiser for kitty parties, get together. Serve hot aloo tikki with tomato sauce, coriander chutney. Make Aloo Tikki with below suggested easy to follow steps and enjoy.
Ingredients of Aloo Tikki Recipe
How to Make Aloo Tikki
Step 1: Put the mashed potatoes into a bowl. Add the green chillies, chopped onions, ginger-garlic paste, garam masala or chaat masala, salt, lime juice and red chilli powder.
Step 2: Sprinkle a little water on the bread and pat to dry, crumble bread to the potatoes mixture mix well, and portion out potatoes mixture and form equally sized round patties flatten slightly with palms of your hands.
Step 3: Take some breadcrumbs in a plate and dip the patties to cover both sides with breadcrumbs and deep fry on MEDIUM heat on both sides to a golden brown colour, remove from oil and drain onto a paper towel and serve hot.
Step 4: Enjoy hot patties with coriander chutney or tomato ketchup.
Additional Tips:
For Fat-free cooking: Instead of deep-frying, heat at the non-stick griddle, spray the griddle with cooking spray, place 3 to 4 patties on the griddle, and cook both sides to a crisp and brown colour.
Recipe from the book: Flavors of India
Add to Favourites