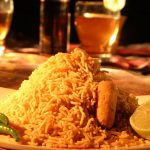 Yield: 2
Prep Time: 15 minutes
Cook Time: 20 minutes
Print
Nutrition facts

(per portion)
Nutrition facts

(per portion)
Calories: 231 kcal
Carbohydrate Content: 35.08 g
Cholesterol Content: 0 mg
Fat Content: 9.29 g
Fiber Content: 3.2 g
Protein Content: 3.53 g
Saturated Fat Content: 1.469 g
Serving Size: 2
Sodium Content: 2342 mg
Sugar Content: 1.61 g
Trans Fat Content: 0.048 g
Aloo Bhujiya
Aloo Bhujiya is the most savory snack of Diwali celebration. This less time-consuming snacks is very favorite among kids. This sev is widely popular as a potato sev, and the taste of this sev is fantastic. This tangy sev is a combination of gram flour and mashed potato. With hot beverage, it goes very well as an evening snack too. So try out today, at home and surprise your family and friends with this tangy snack.
Ingredients of Aloo Bhujiya Recipe
How to Make Aloo Bhujiya
Step 1: Place mint leaves, chopped green chilies and lime juice in a mixture blender and blend them to a smooth paste.
Step 2: Now, combine all dry ingredients along with gram flour and oil. Mix well.
Step 3: Add mashed potato and mint paste to the flour mixture and knead everything to form a soft dough.
Step 4: Heat oil in a deep pan at the smoking point.
Step 5: Meanwhile, with little grease the sev maker from inside and fill the little portion dough in a sev maker.
Step 6: when oil is heated to smoking point reduce the flame and over hot oil press the dough through the sev maker. Make sure sev fall in one piece over hot oil.
Step 7: Fry this bhujiya until the bubbles disappear and hissing sound stops.
Step 8: Repeat the whole process for the rest of the dough.
Step 9: Once done allow the bhujiya to cool for a while and crush them with hands and sprinkle some chaat masala over fried bhujiya. Toss well.
Step 10: Store it in an airtight container. It remains fresh for a week.
Add to Favourites