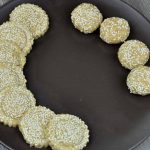 Yield: 3
Prep Time: 5 minutes
Cook Time: 15 minutes
Print
Nutrition facts

(per portion)
Nutrition facts

(per portion)
Calories: 1042 kcal
Carbohydrate Content: 150.19 g
Cholesterol Content: 122 mg
Fat Content: 46.63 g
Fiber Content: 11.9 g
Protein Content: 10.93 g
Saturated Fat Content: 29.32 g
Serving Size: 1
Sodium Content: 401 mg
Sugar Content: 65.13 g
Trans Fat Content: 1.862 g
Aloo Burfi
Adhik Maas or Purushottam Maas is an extra lunar month. This month is celebrated as a divine month. In Hindu culture, there are lots of festivals/days like Navratri, Shivratri and other holy days when people perform various types of Puja and Havan. Also, some so many individuals are keeping fast on these holy days.
Here I am sharing a famous fasting recipe, Aloo Barfi, which is the best dessert to have during the vrat/upvas and also for those people who have sweet-tooth. It is deliciously succulent and tender with great flavor. This luscious phalahari dessert is effortless, which you can make quickly. Aloo Barfi can make with very few ingredients, potatoes, sugar, ghee, cardamom powder, and dry fruits. Enjoy this delicious Aloo Barfi in your fasting days.
Ingredients of Aloo Burfi Recipe
How to Make Aloo Burfi
Step 1: Wash the potatoes and place them into the pressure cooker along with water and cook it till done.
Step 2: Remove it from the heat and let it cool for 6-7 minutes.
Step 3: Peel the potatoes and mash them well.
Step 4: In a frying pan, heat the ghee and add mashed potatoes to it and sauté it for 2-3 minutes over LOW heat.
Step 5: Add sugar to it and mix well. Cook it till the sugar dissolved completely, and ghee starts separating.
Step 6: Add green cardamom and half of the dry fruits then mix them well.
Step 7: Remove it from the heat and transfer it to a plate that greased with ghee.
Step 8: Spread this mixture evenly and cut it into pieces.
Step 9: Garnish it with remaining dry fruits and serve.
Add to Favourites