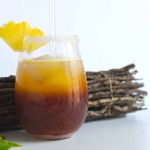 Yield: 2
Prep Time: 20 minutes
Cook Time: 10 minutes
Print
Nutrition facts

(per portion)
Nutrition facts

(per portion)
Calories: 83 kcal
Carbohydrate Content: 21.1 g
Cholesterol Content: 0 mg
Fat Content: 0.44 g
Fiber Content: 2.8 g
Protein Content: 1.4 g
Saturated Fat Content: 0.098 g
Serving Size: 1
Sodium Content: 6 mg
Sugar Content: 11.66 g
Trans Fat Content: 0 g
Mango Ginger Ice Tea
Tea is the most loved beverage by Indians. Traditionally, tea is prepared with milk, sugar and tea leaves. But in the summer season, the hot cup of tea is tough to enjoy for that ice tea is a perfect beverage for hot days of summer. Mango ginger iced tea is one of them. It is another refreshing and delicious drink which has flavors of mangoes and tea. Here is the recipe for mango ginger iced tea.
Ingredients of Mango Ginger Ice Tea Recipe
How to Make Mango Ginger Ice Tea
Step 1: In a pan, place ginger and sugar along with water and bring it boil.
Step 2: Simmer it for 5 minutes and dip the tea bags into it.
Step 3: Now, remove the pan from heat and leave it for 2 minutes for the tea to brew well.
Step 4: When the tea brew well, strain it and set aside.
Step 5: Then add mint leaves to the ginger tea and let it cool.
Step 6: Now, add mango juice and lemon juice to it and mix well.
Step 7: Take a glass and put half of the crushed ice and arrange few mango slices on it.
Step 8: Again put remaining crushed ice and pour the drink over ice and serve.
Add to Favourites