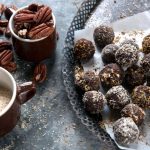 Yield: 2
Prep Time: 20 minutes
Cook Time: 5 minutes
Print
Nutrition facts

(per portion)
Nutrition facts

(per portion)
Calories: 2002 kcal
Carbohydrate Content: 289.6 g
Cholesterol Content: 5 mg
Fat Content: 83.52 g
Fiber Content: 31.3 g
Protein Content: 26.58 g
Saturated Fat Content: 44.848 g
Serving Size: 2
Sodium Content: 1124 mg
Sugar Content: 149.32 g
Trans Fat Content: 0.051 g
Leftover Brownie Truffles
Have you ever had leftover brownies before and you didn't know what to do with them? Well, here is the solution for your leftover brownie "Leftover Brownie Truffles." Leftover brownies are the good base for truffles.
I use a food processor to break the brownies into smaller pieces so that they are easier to mix into melted chocolate and also easier to roll out into small marble-sized balls. I love this truffle coated with different coatings to decorate truffles; you can garnish them with pretzels, coconut, sugar & lime zest, etc. They are just fun to make and super delicious sweet for those who have a sweet tooth. So here's the best solution for your leftover brownie. Just take a look at this recipe.
Ingredients of Leftover Brownie Truffles Recipe
How to Make Leftover Brownie Truffles
To Make Truffle
Step 1: Place the chocolate in a heatproof bowl over a saucepan with an inch of barely simmering water. Stir it occasionally till the chocolate is melted and smooth.
Step 2: Once chocolate is melted remove from the heat.
Step 3: Place the brownies and any crumbs in a food processor and pulse to break up.
Step 4: In a bowl, with the melted chocolate place crumbled brownies and stir with a spoon or using rubber spatula until combined. Scrape this mixture into a bowl or small baking pan.
To Make Coatings
Step 1: In a shallow bowl, combine the sugar along with lime zest and chili powder.
Step 2: In another bowl, place the pretzels and coconut scrape in the third bowl.
To Make Balls
Step 1: Now, scoop up small marble-sized balls of the brownie mixture and roll in your hands to smoothen the surface.
Step 2: Roll the balls in the coating of your choice. Chill the truffles on a baking sheet in a single layer.
Step 3: Your delicious brownie truffles are ready to enjoy!!
Add to Favourites