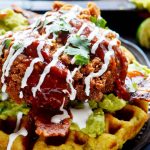 Yield: 3
Prep Time: 30 minutes
Cook Time: 30 minutes
Print
Nutrition facts

(per portion)
Nutrition facts

(per portion)
Calories: 901 kcal
Carbohydrate Content: 86.09 g
Cholesterol Content: 605 mg
Fat Content: 34.95 g
Fiber Content: 15.4 g
Protein Content: 61.66 g
Saturated Fat Content: 7.09 g
Serving Size: 1
Sodium Content: 2869 mg
Sugar Content: 10.28 g
Trans Fat Content: 0.119 g
Golden Salted Egg Yolk Chicken
Golden salted egg yolk chicken is yet another exotic chicken dish combine with the egg yolk. It goes very well with anything but especially with seafood. It is a delicious and tasty chicken dish with egg yolks. Last month I tried stir-fried chicken with some spices. But somehow I love this chicken dish the most than any other chicken dish.
In this recipe, I have used six salted egg yolks that can enhance the taste of this dish and so that all the chicken pieces are coated well. You can also increase or decrease the number of egg yolks as per your requirements. Here's the recipe to learn to make golden salted egg yolk chicken.
Ingredients of Golden Salted Egg Yolk Chicken Recipe
How to Make Golden Salted Egg Yolk Chicken
Step 1: Place salted egg yolks in a bowl and mash it finely.
Step 2: Now, heat 2 tablespoons of oil, and fry the mashed salted egg yolks over the heat until foamy.
Step 3: Add garlic, ginger, curry leaves and chili padis and fry until fragrant. Set aside.
Step 4: In a bowl, mix the boneless chicken legs with seasonings of salt and sugar. Set aside for about 15 minutes.
Step 5: Beat egg and mix well with chicken, coat with cornstarch.
Step 6: Heat sufficient oil in a pan and deep-fry chicken until golden brown, remove and drain well.
Step 7: Heat a pan, add chicken, golden salted egg yolk sauce, stir quickly and let chicken coat well with salted egg yolk.
Add to Favourites