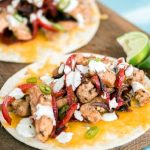 Yield: 4
Prep Time: 10 minutes
Cook Time: 15 minutes
Print
Nutrition facts

(per portion)
Nutrition facts

(per portion)
Calories: 5226 kcal
Carbohydrate Content: 90.59 g
Cholesterol Content: 274 mg
Fat Content: 519.72 g
Fiber Content: 9.8 g
Protein Content: 69.66 g
Saturated Fat Content: 89.571 g
Serving Size: 1
Sodium Content: 4072 mg
Sugar Content: 33.9 g
Trans Fat Content: 0.163 g
Pepper Chicken
Pepper Chicken, fried chicken pieces are sautéed with garlic, ginger, jalapeno, peppercorns, and some more spices. This is a dry version of making chicken that goes very well as a side dish. I usually make this dish using bone-in and skinless chicken at least once a month. Whenever I make lemon zest pasta, I pair it with this four pepper chicken. Most of the time, I make chicken with coconut milk or lamb meatballs.
This chicken recipe is quick and easy to make. This can be ready in only 15 minutes if you have chicken thighs ready into small chunks. This dry chicken dish is flavorful because there are various spices are used to cook it. Chicken chunks are coated with cornstarch, white pepper and salt then deep fried into the hot oil. Once the chicken is fried, this dish can be made in a jiffy. These fried chicken chunks are stir-fried stir spices. The spices are garlic, ginger, peppercorns, jalapeno and green pepper. So after stir frying the spices, it is coated to the chicken which makes the tastier and flavorful chicken dish.
Ingredients of Pepper Chicken Recipe
How to Make Pepper Chicken
Step 1: In a mixing bowl, toss the chicken with the cornstarch, white pepper, and salt to coat. Set aside for 5 minutes.
Step 2: Meanwhile, heat the oil to 350° F in a wok over MEDIUM-HIGH heat.
Step 3: Add the chicken and cook, frequently stirring with a slotted spoon, until cooked through, this will take around 5 minutes. Drain well.
Step 4: Now, drain all but one tablespoon of oil from the wok. Add garlic, ginger, and jalapeno and stir-fry briefly until softened.
Step 5: Then, add peppercorns and dried chilies and give it a toast. Toss it continuously until fragrant, and the chilies begin to blacken.
Step 6: Add chicken, green peppers and toss until very hot and beginning to soften.
Step 7: Pour in the vinegar and soy sauce and toss until well combined.
Step 8: Add the chili oil and cook until heated through.
Step 9: Transfer it to the serving plate or a bowl, drizzle sesame oil over the top. Serve hot.
Add to Favourites