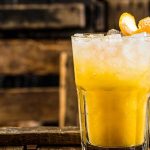 Yield: 4
Prep Time: 15 minutes
Print
Nutrition facts

(per portion)
Nutrition facts

(per portion)
Calories: 234 kcal
Carbohydrate Content: 40.55 g
Cholesterol Content: 1 mg
Fat Content: 6.29 g
Fiber Content: 9.3 g
Protein Content: 6.65 g
Saturated Fat Content: 5.212 g
Serving Size: 1
Sodium Content: 538 mg
Sugar Content: 29.66 g
Trans Fat Content: 0 g
Fire On Ice Mocktail
Whether you are planning a party or if you need non-alcoholic drink option for your get to gather, this "Fire On Ice" Mocktail is as pretty as it is delicious. This Mocktail is also very preferable for who wish to avoid alcohol, and they can try this Mocktail and enjoy this fanciful Mocktail. Here is the simple recipe to try this Mocktail at home.
Ingredients of Fire On Ice Mocktail Recipe
How to Make Fire On Ice Mocktail
Step 1: Put crushed ice in each tall glass and place chili on the ice.
Step 2: Now, add coconut water, sugar-free powder, lemon juice, salt, and pepper.
Step 3: Then stir well to dissolve the sugar-free powder and to add the fire of the chilies to the drink.
Step 4: Now, top with sprite and stir once then serve at once.
Add to Favourites