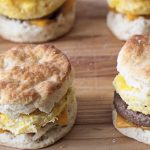 Yield: 2
Prep Time: 5 minutes
Cook Time: 15 minutes
Print
Nutrition facts

(per portion)
Nutrition facts

(per portion)
Calories: 1354 kcal
Carbohydrate Content: 132.87 g
Cholesterol Content: 2538 mg
Fat Content: 63.61 g
Fiber Content: 3.8 g
Protein Content: 60.16 g
Saturated Fat Content: 25.44 g
Serving Size: 1
Sodium Content: 3981 mg
Sugar Content: 27.51 g
Trans Fat Content: 0.098 g
Egg In A Biscuit
Today I am going to share one of the best snacks "Egg in a biscuit." It is American cuisine. It is just like biscuit sandwich still different snack recipe. From the outside it may not be much to look but when the fluffy cheddar and chive biscuit parts a soft boiled egg comes out with the molten gold core. This amazingly magical biscuit is perfect for breakfast. At the first bite of the cookie give you a buttery and crumbly surprise, and this was a pretty good start. And the second bite gives you a hard boil egg with melted yolk at the center that just fantastic experience to taste this heavenly good biscuit!
Ingredients of Egg In A Biscuit Recipe
How to Make Egg In A Biscuit
Step 1: Adjust the oven rack to the middle position and preheat to 245° C (475° F).
Step 2: Line the baking sheet with parchment paper.
Step 3: In a food processor, Place the flour, sugar, baking powder, baking soda, and salt. Combine them well.
Step 4: Now, put the butter over flour evenly and pulse one full second at a time until the mixture resembles gravel.
Step 5: Add the cheese and pulse again for a few more times to break up the cheese, but be sure to leave some small chunks.
Step 6: Transfer this mixture to a bowl and stir in the chives.
Step 7: Add the yogurt to the flour mixture and stir gently until just combined. Be careful not to over-mix.
Step 8: Now, quickly pour four small circles of batter down on the parchment paper and top each one with an egg standing upright. Cover the egg with the remaining batter and place the sheet into the preheated oven.
Step 9: Bake this biscuit for 4-5 minutes and then turn down the heat to 200° C (400° F) and bake for another 7-10 minutes or until the biscuits are golden browns.
Step 10: Transfer it to a wire rack to cool completely, or you can serve it hot.
Add to Favourites