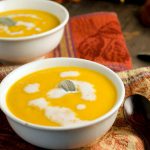 Yield: 2
Prep Time: 20 minutes
Cook Time: 25 minutes
Print
Nutrition facts

(per portion)
Nutrition facts

(per portion)
Calories: 1409 kcal
Carbohydrate Content: 103.6 g
Cholesterol Content: 60 mg
Fat Content: 87.62 g
Fiber Content: 17.6 g
Protein Content: 66.86 g
Saturated Fat Content: 23.222 g
Serving Size: 1
Sodium Content: 4205 mg
Sugar Content: 45 g
Trans Fat Content: 0.05 g
Creamy Pumpkin Soup
Pumpkin soup is a silky-textured, delicious soup made with onions, pumpkin, and chicken stocks. This creamy pumpkin soup will make your kids more hungry and craving for the pumpkin. Learn to make the pumpkin soup.
Ingredients of Creamy Pumpkin Soup Recipe
How to Make Creamy Pumpkin Soup
Step 1: In a pan, add butter, onions, ginger, pumpkin, curry powder, orange ring, water and mix them well.
Step 2: Put the pan over the heat and cook on MEDIUM heat until the pumpkin is thoroughly cooked and becomes soft.
Step 3: Once the mixture is ready, remove the pan from the heat and transfer the mixture into the blender.
Step 4: Blend the mixture until smooth.
Step 5: Then add the milk powder to the mixture and again blend it.
Step 6: Now, transfer this mixture to the pan and again cook it till the milk powder is cooked for 5-10 minutes.
Step 7: Once the soup is a ready remove the pan from the heat.
Step 8: Correct seasoning and serve the hot creamy pumpkin soup.
Add to Favourites