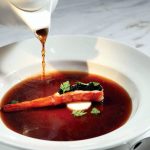 Yield: 2
Prep Time: 30 minutes
Cook Time: 1h 30 min
Print
Nutrition facts

(per portion)
Nutrition facts

(per portion)
Calories: 465 kcal
Carbohydrate Content: 61.46 g
Cholesterol Content: 55 mg
Fat Content: 9.85 g
Fiber Content: 10.3 g
Protein Content: 34.3 g
Saturated Fat Content: 2.588 g
Serving Size: 1
Sodium Content: 3311 mg
Sugar Content: 27.01 g
Trans Fat Content: 0 g
Consommé Clear Soup
Consommé clear soup is a delicious French recipe. A consommé soup is a very refined soup. It's very time-consuming soup recipe and required lot of patience while cooking it. Consommé is a very old time soup recipe; nowadays fewer people are making it. Consommé clear soup is made with meat and chicken, as per your taste choice you can use it in your cooking. You can serve the soup either chilled or hot; it tastes best in both way. Let's learn how to make consommé clear soup.
Ingredients of Consommé Clear Soup Recipe
How to Make Consommé Clear Soup
Step 1: Take a thick, heavy bottom frying pan.
Step 2: Add minced meat in a pan and add egg white, carrot, leek, celery, bay leaf, peppercorns and mix them.
Step 3: Then add a cold mutton stock to the mixture and again mix them well. Cook it for 10 minutes.
Step 4: Cook the mixture on the MEDIUM heat and keep stirring till it comes to boil.
Step 5: A raft will be formed don't' stir.
Step 6: Strain the soup through a muslin cloth.
Step 7: Add salt to the soup and garnish it with tomato cubes and rice and serve hot.
Add to Favourites