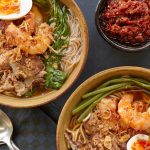 Yield: 3
Prep Time: 15 minutes
Cook Time: 20 minutes
Print
Nutrition facts

(per portion)
Nutrition facts

(per portion)
Calories: 4102 kcal
Carbohydrate Content: 299.2 g
Cholesterol Content: 4247 mg
Fat Content: 86.11 g
Fiber Content: 18.6 g
Protein Content: 504.77 g
Saturated Fat Content: 25.203 g
Serving Size: 1
Sodium Content: 32734 mg
Sugar Content: 58.33 g
Trans Fat Content: 0.647 g
Classic Shrimp Laksa with Rice Noodles
Classic Shrimp Laksa with Rice Noodles is a hearty Southeast Asian noodle soup. This dish has a sweet, spicy and vibrant taste with a tropical creaminess of coconut milk. It is very simple to make, but it requires a few ingredients that are not readily available at most grocery stores.
The flavorful base of this recipe is Laksa paste, and basically, it's made with coconut milk, shrimps paste, fresh turmeric, garlic, lemongrass, and spices. Then this paste is sautéed in a wok if you want to deepen the flavor of this paste you can use oil to sauté it. Into the same pot goes chicken stock, fish sauce, soy sauce and shrimp along with coconut milk. After a quick simmer, it's done. Ladle over boiled rice noodles then the top with fresh basils, cilantro, and bean sprouts. After garnishing, serve this dish immediately, and I can assure you that this dish can take you far away and you love to enjoy it. Here is the easy recipe to make the classic shrimp laksa with rice noodles.
Ingredients of Classic Shrimp Laksa with Rice Noodles Recipe
How to Make Classic Shrimp Laksa with Rice Noodles
To Make Laksa Curry Paste
Step 1: In a bowl, combine the coconut milk and shrimp paste with all remaining ingredients of laksa curry paste in a blender and whiz into a smooth paste.
To Make Shrimps Laksa With Noodles
Step 1: Heat a wide wok over MEDIUM-HIGH heat. Then add the laksa curry paste and cook it for 2-3 minutes while stirring it.
Step 2: Now, pour in the chicken stock, fish sauce, soy sauce, sugar, lime juice and coconut milk. Mix everything well.
Step 3: When it start simmering reduce the heat and let it cook for about 5 minutes.
Step 4: After that stir in the shrimp and cook again until just cook through, this will take about 2 minutes.
Step 5: Meanwhile, bring a large pot of water to a boil and cook the noodles until al dente, about 3 minutes. Drain them and rinse under cold water to refresh.
Step 6: Now, add ¾ cup of the bean sprouts to the shrimp mixture.
Step 7: Seasoned it with sea salt and cayenne pepper.
Step 8: At the serving time, divide the noodles between 2 large, shallow bowls and ladle the shrimps and broth over each.
Step 9: Garnish it with cilantro and basil, sprinkle the remaining sprouts over the top and serve it immediately.
Add to Favourites