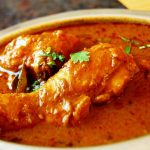 Yield: 3
Prep Time: 10 minutes
Cook Time: 60 minutes
Print
Nutrition facts

(per portion)
Nutrition facts

(per portion)
Calories: 1587 kcal
Carbohydrate Content: 80.22 g
Cholesterol Content: 520 mg
Fat Content: 57.52 g
Fiber Content: 25.7 g
Protein Content: 186.5 g
Saturated Fat Content: 10.747 g
Serving Size: 1
Sodium Content: 8035 mg
Sugar Content: 10.27 g
Trans Fat Content: 0.145 g
Chicken Xacuti
Chicken Xacuti is a popular Goan cuisine. The word "Xacuti" is pronounced as "Shakuti" actually; this word is derived from the Portuguese word "Chacuti." In this dish, chicken is spicy, tangy and very flavorful. This dish generally made for a festival and another special occasion. This dish is prepared with roasted spices and chicken. The dish is perfect for dinner. Let us have a look at the easy recipe of Chicken Xacuti.
Ingredients of Chicken Xacuti Recipe
How to Make Chicken Xacuti
Step 1: In a pan, heat one tablespoon of oil and add coconut scrap to it and sauté it until light brown. Transfer it to the mixture jar.
Step 2: In the same pan, dry roast red chilies, cumin seeds, coriander seeds, black peppercorns, fennel seeds, carom seeds, poppy seeds, cloves, cinnamon stick, and star anise till fragrant.
Step 3: Add all these dry roast spices along with garlic cloves, turmeric powder and a little water to the coconut in the grinder and grind this all ingredient together and make a smooth paste.
Step 4: Heat the remaining oil in a deep pan and add chopped onions and sauté it till well browned.
Step 5: Now, add chicken and sauté it on HIGH heat for about 2-3 minutes.
Step 6: After that add the masala paste and salt to it and mix well.
Step 7: Then add 2 cups of water to it and stir well.
Step 8: Add tamarind pulp and grated nutmeg and stir it again.
Step 9: When it starts boiling reduce the heat and cover the pan with its lid and cook it for about 30 minutes.
Step 10: Serve hot with steamed rice.
Add to Favourites