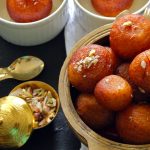 Yield: 3
Prep Time: 10 minutes
Cook Time: 30 minutes
Print
Nutrition facts

(per portion)
Nutrition facts

(per portion)
Calories: 7237 kcal
Carbohydrate Content: 313.38 g
Cholesterol Content: 22 mg
Fat Content: 666.27 g
Fiber Content: 6 g
Protein Content: 27.05 g
Saturated Fat Content: 71.036 g
Serving Size: 1
Sodium Content: 1744 mg
Sugar Content: 220.85 g
Trans Fat Content: 176.979 g
Bread Gulab Jamun
Bread Gulab Jamun is everyone's favorite dessert. So I came up with an innovative gulab jamun dish which is also very delicious as like basic gulab jamun. Gulab jamun is common sweet made during festivals or special occasions all over India.
This gulab jamuns are made from bread and milk powder. And fried balls are soaked in sugar syrup. The spongy, soft and juicy bread gulab jamun, they melt in the mouth. While making these gulab jamuns, you have to keep a few points in your mind which I have mentioned here in the recipe. If you make this carefully, you will get soft and spongy gulab jamuns. So here's the recipe for bread gulab jamun.
Ingredients of Bread Gulab Jamun Recipe
How to Make Bread Gulab Jamun
To Make Syrup
Step 1: Place sugar with sufficient water and also add saffron strands and cardamom powder. Bring this mixture to boil over MEDIUM flame.
Step 2: When the sugar dissolved completely, remove from the heat and set aside.
To Make Jamun
Step 1: Heat sufficient oil in a deep pan.
Step 2: Meanwhile, take the milk and dip each bread slices and squeeze out the excess milk.
Step 3: Place this into the food processor, add milk powder and soda bi-carb then grind it to a smooth paste.
Step 4: Make the equal size of small balls and roll into smooth balls. While rolling, it doesn't apply pressure and also do not roll them tightly.
Step 5: Deep fry these balls in hot oil till golden brown. Drain them and immediately add them to the warm sugar syrup.
Step 6: Cover and let it rest for 2 hours so that the jamuns absorb the sugar syrup well.
Step 7: Enjoy them chilled.
Add to Favourites